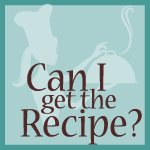 Can I Get the Recipe?
dishes out weekly recipes complete with shopping lists every Friday so that you're ready to tackle the grocery stores on the weekend allowing you to get your meals organized for the week. Product and cookbook features as well as sponsored ads informing our readers of unique products, sensational services, food and family related stores and "need a night out" restaurants are published throughout the week.
You're a busy family with everyone on the go but you don't want to compromise your families health or budget with take-out foods or frequent restaurant visits. Family friendly, delicious home cooked meals are why you're here. At Can I Get the Recipe? our goal is to dish out free, doable, nutritious dinner plans that offer a variety of recipes complete with shopping lists each week. Delivered straight to the inbox of todays on the go families, Can I Get the Recipe? offers recipes from well known foodies, accomplished chefs, the coolest
cookbooks
, fabulous restaurants and readers like you! Note: All recipes are re-printed with permission from either the recipe's author, cookbook publisher, restaurant or publicist.
♥

I recently was able to review a really great site "Can I get the Recipe?" I love it because I can go there and plan out my weekly menu, using their fantastic recipes and shopping lists. It is so easy and there are recipes for anyones taste buds. One of the best dishes I tried was the Chicken, Mushrooms and Parmesan with Orzo. The recipe was easy. I had my shopping list right there and they even give you tips on how to omit the chicken to make this a vegetarian dish. WOW! They also mention how this makes a great left over lunch dish. Um, yeah. I actually ate it cold in sandwich form with a slice of wheat bread and it was so tasty. I eat a lot of hot dishes cold, in sandwich form. LOL You should try this one that way for sure. I also love that Can I get the Recipe? includes featured cookbooks as well as reviews and giveaways. You can win great kitchen gadgets. Who wouldn't love that!!! I really enjoyed my time spent on their site and will go back often to find great recipes for my family. I was also very thankful that they sent me a wonderful cookbook to review.
The Best of Chef at Home...
Essential Recipes for Today's Kitchen.... It is a fantastic cookbook using everyday ingredients that are easily found at your local grocery store. Chef Michael Smith brings you the best in home comfort foods as well as fancy dishes that are easy to make. He even suggests how you should experiment with your own dishes. Working with different flavors and ingredients. Some great recipes for his cookbook can be found right on Can I get the Recipes? site. For example; Classic Chicken Stew, Penne with Red Pepper Sauce and Spinach and the traditional Chocolate Chip Cookies. You will love this cookbook as much as I do! Trust me! You can even find a link to order this today!
♥
Another Favorite Recipe I found....
Stir Fried Mixed Vegetables served over Hot Rice....

This is a tasty fresh dish your family is sure to love!
Things that are
Brag Worthy....
Recipes ~ weekly recipes with shopping lists and more

Featured Cookbooks ~ try out recipes from these cookbooks before you make the purchase.

Reviews & Giveaways ~ Check out the latest kitchen gadgets and cookbooks. Then enter to win some of them. Very nice!

Sponsored Ads ~ View previous ad and special offers.

Subscribe ~ Get the latest in weekly updates by subscribing to Can I get the Recipe?

Tips ~ Many great tips for each recipe is refreshing. Learn how to substitute and change the recipes.

Shop ~ Find out where you can get the Cookbooks and Gadgets shared at Can I get the Recipe?

Print this Recipe ~ Find a recipe you love? Well just print it out. It's that easy.

Can I get the Recipe?
gets
Bragging Rights!
Can I get the Recipe?
is generously giving away a
Cookbook: The Best of Chef at Home by Michael Smith
How to enter: Use the entry form below to submit your qualifying entries. Fill out the form separately for each entry telling me which you qualify for.
1st Mandatory Entry must be completed before you can qualify for additional entries. All extra entries who don't do the mandatory entry will be deleted


3 entries - Subscribe to Can I get the Recipe?
2 entries- Become a Fan of Can I get the Recipe on Facebook.
2 entries - Follow Can I get the Recipe? on Twitter
4 entries - Grab the Can I get the Recipe? button for your blog, leave a link
2 entries- Enter the Holey Donuts giveaway.

1 entry for each- Follow The Bragging Mommy via Google Friend Connect, subscribe to emails, subscribe in reader.
GIVEAWAY IS NOW CLOSED

You can enter this giveaway until Feb. 25 @10:00 am. The winner will then be chosen by
random.org
, verified and announced in the comments section of the post. We will then email the winner. The winner will have 48 hours to email us back and claim the prize, if prize is not claimed within 48 hours a new winner will be chosen. By entering this giveaway you agree to The Bragging Mommy Disclaimer/Disclosure. You must be 18 years or older and live in the US ONLY enter.